New Home Builders in Brisbane
ALL-INCLUSIVE PRICING. NO FINE PRINT
Brisbane's Best
turn key

Builders
It's important to us that we offer bespoke solutions, and we do this by taking a friendly approach with open communication from the very beginning to the end of the process.
This means we keep you in the loop and answer any questions along the way. As our new home builders in Brisbane focus on your journey, we use our combined skills, experience and dedication to ensure your every need is exceeded.
Our Home Building Services
Experience the benefits of all-inclusive packages at the right price with nothing hidden in the fine print! At OJ Pippin, we pride ourselves on quality service and a stress free journey with our full turn key homes.
Our custom home builders start with a blank page and will take the time to understand your priorities. We take a transparent approach to the whole process when it comes to designing and constructing your dream home.
Build Your Dream Home with the Best
Brisbane

Home Builders
At OJ Pippin, we're dedicated to doing the little things right to make sure you get exactly what you've been dreaming of because we understand that building a home is a labour of love. For 30 years, our family-run business in Queensland has been offering a unique home-building experience, and we take this responsibility very seriously.
With over 100 plans to choose from and over 1000 houses built, we're confident we can deliver a quality result that you can't wait to come home to. We love a challenge, so no block is too tricky or design too unique – if you can dream it, we can do it.
As quality home builders in Brisbane, we have completed projects big and small, delivering at a high-quality level for new dwellings, extensions, renovations and house and land packages.
Our company enjoys taking a contemporary approach that is both creative and innovative, with quality tailored finishes using only the best materials. As a professional team, everyone from our managers to our Brisbane house builders loves to rise to a challenge, adding beautiful aesthetics to your new residence within your planned budget.
OUR Brisbane Home DESIGNS
At OJ Pippin we make extraordinary look easy because we spend time with our clients, talking through design to define your vision, budget and establish a roadmap. Our attention is poured into envisioning what the end result will look like, allowing you to get a feel of what your dream property could look like.
Why Choose OJ Pippin Homes?
We'll take care of every little detail – from your blinds to your letterbox. Our full turnkey solution means everything you need will be built, supplied and installed by us, with nothing left for you to do but move in and enjoy.
Our complimentary custom design service allows you to design your dream home. We take the time to understand your needs and how we can create a floor plan and facade that fits your vision.
We provide a fast turnaround for quotes and once your price has been confirmed by our estimator you will have total peace of mind. We respect the significant investment you're making, so we work within your budget and explain all details upfront, to provide the ultimate result with no hidden costs – ever.
It's okay to make changes. Making changes to your plan is an important step in creating your perfect home. We welcome any questions you may have.
We say 'yes' to challenging projects, tricky lots and build exactly what you want.
When you build a home with us, you'll have access to our entire team who are passionate about achieving the best result for you and ensuring your project gets the attention it deserves.
You'll have full transparency into every step of the process. To assist you in making an informed purchase decision about your proposed lot, we will inspect it with you.
Treating business, trade and supply partners, as well as our customers, fairly and respectfully, allows us to provide a great quality product for a fair price.
We recently built with OJ and had an awesome experience. From sitting with the General Manager having him draw our custom layout right in front of us to the high quality finished product, we are extremely happy with how our house has turned out.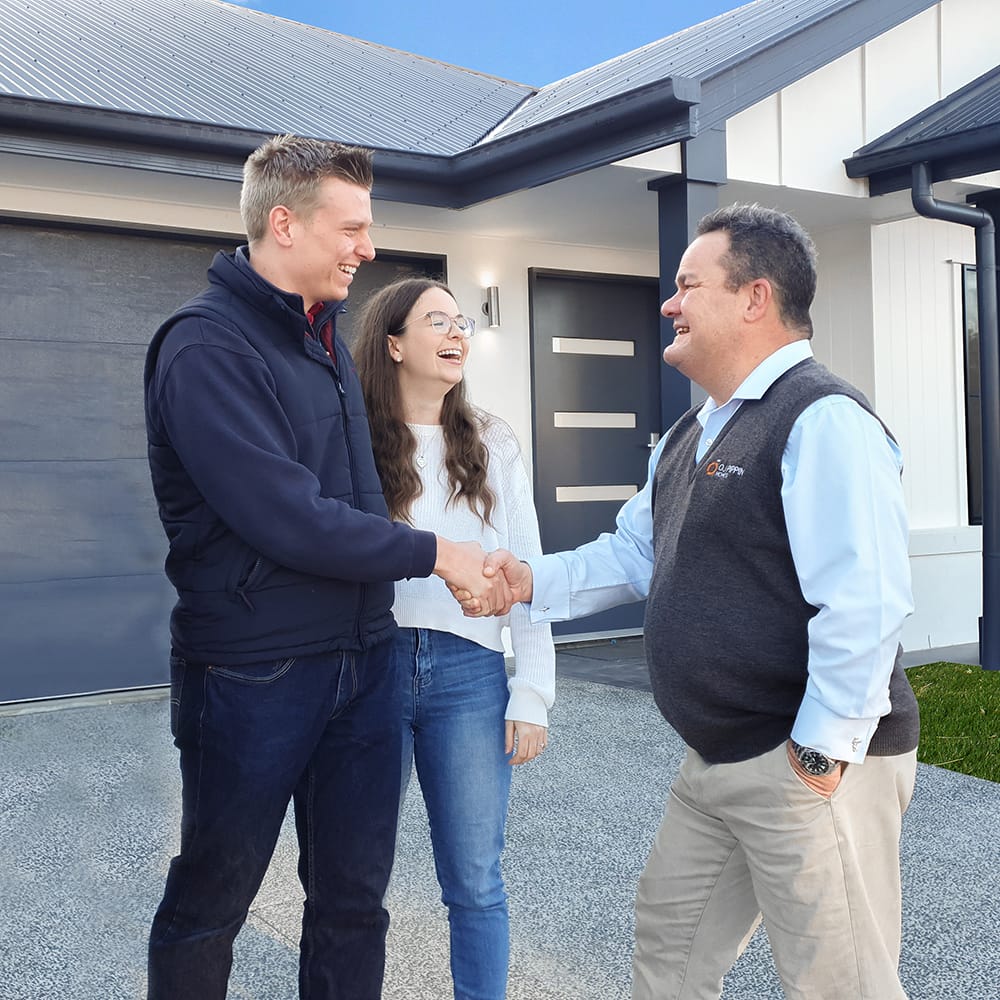 We can't thank the entire OJ Pippin team enough for building our first home. Every part of our journey was personal and the building process was smooth. We will be going straight to OJ Pippin for our next build!
Absolutely love my new O J Pippin Home! Great quality and value builder. The build went a lot quicker than I anticipated and I was in before the estimated date. I would definitely build with them again but hopefully this is my forever home. Thanks to the Pippin team.
Our brand new Style It Studio is your styling sanctuary – giving you space and guidance to decide on all the finishing touches that will make your home yours.
Frequently Asked Questions
A number of factors influence the cost of building and purchasing a home, including available land, knock-down and rebuild projects, or starting from scratch. Further to that, neighbourhood choice can heavily influence the final cost of your home. We recommend speaking with our team about great communities where you can build a new home without breaking the bank.
We recommend speaking with neighbours, colleagues, friends, and family who have recently completed a major build or renovation project. Word of mouth and firsthand recommendations are your best bet for finding a great building team.
A number of factors that will influence your home buying decision will be the availability of land, your neighbourhood of choice, whether it requires additional land preparation or a knockdown prior to building, and renovations that could be required if you buy an existing house. Once you've determined where you want to live, your budget, and timeline, consult with real estate agents and builders to determine which path is best for your needs.
We recommend seeking firsthand recommendations from trusted friends, family, and colleagues before selecting a home building team; confirming your budget and timeline; and selecting one or more communities in which to build. The latter choice can significantly influence the building process and price, so knowing where you might like to live is key.
Among the top questions to ask a new building team before signing a contract are their expected project timeline, capacity for new projects, contract inclusions and exclusions, and insurance and other protective measures that will protect the builder, their workmanship, contractors, and your home.
Some of the factors that will influence your home building timeline are: the availability of a block or piece of land in your ideal neighbourhood; the contract and preparation period that involves planning, council approval, and material selection; the construction stage; and final installation, inspection, and handover times.
Start Building Your
Dream Home

in Brisbane Today!
With over 30 years' experience in the industry, we now offer a team of financial specialists that can meet with you anywhere, anytime to guide you through the world of home loans. This unique service is just another way we work towards helping people create and live out their dreams.
When you choose our professionals to take the journey with you, we ensure our every bit of attention is on you. Contact us to find out how you can start brainstorming your new home in Brisbane – we're ready to get started on your development now.
Australia's construction industry has experienced significant growth and transformation, driven by technological advancements and robust demand for infrastructure development. As in other parts of the
Read More »
The construction industry is the backbone of modern society, shaping the landscapes and infrastructures we depend on daily. From townhouses to the humblest of homes, construction projects
Read More »
Australia's building industry has long been a cornerstone of the country's economic growth and development. With a rapidly changing global landscape, the future of housing
Read More »